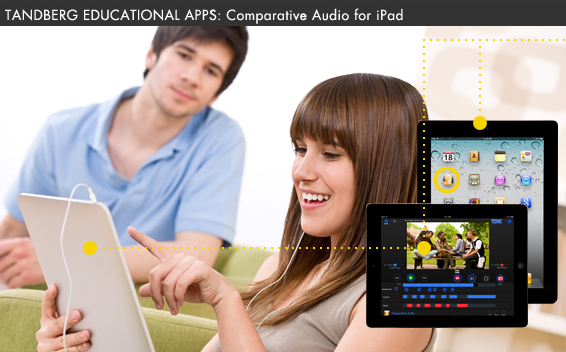 COMPARATIVE AUDIO FOR iPAD - LANGUAGE LEARNING IN AN iPAD APP
The Comparative Audio App for the iPad is first and foremost a foreign language study recorder. You can play audio and video files in listening mode or you can record your voice alongside the original recording for audio comparison. The App is a natural extension to your language lab, allowing students to practice outside of the lab and at home.
If you don't have a language lab, the Comparative Audio App will allow your students to practice listening comprehension and speaking the language in a similar way as they would in a language lab. You can use this unique tool to practice a new language to improve your pronunciation and intonation. With Comparative Audio you can up-load and down-load files from an FTP server.
Features and Benefits:
Sophisticated multi-media recorder
Play audio and video with simultaneous voice recording for comparison
Practice to improve pronounciation and intonation
Separate volume controls for content playback and speaking
FTP files direct to your teacher
Share and email your files
For more information please visit our Comparative Audio Web Site
Learn how Tandberg Educational Inc. can create a custom 21st Century Learning Solution for your unique needs and environment. Contact Tandberg Educational, Inc. today.