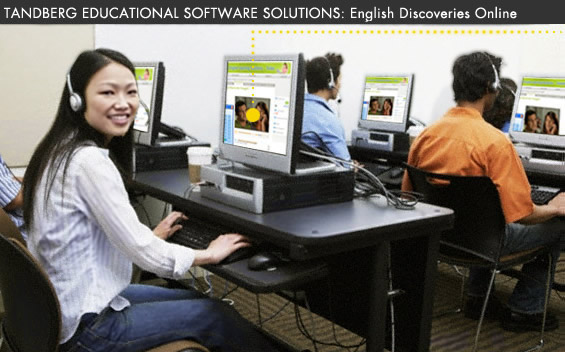 EDO 2.5 - THE COMPLETE 21st CENTURY ENGLISH LANGUAGE LEARNING SOLUTION
ENGLISH DISCOVERIES ONLINE is a comprehensive computer-assisted English learning solution integrating the very latest in multimedia learning technologies with field-proven pedagogical approaches. The program is equipped with many valuable features such as interactive exercises using voice recognition technology and Flash video components. Advanced administrative tools allow teachers to track the progress of their students, enabling students to receive individual guidance toward reaching their goal of English fluency. EDO 2.5 is guaranteed to enhance the learning process and experience of both teachers and students.
Features and Benefits:
Covers all language areas: Listening, Speaking, Reading, Writing, Vocabulary and Grammar
Bilingual audio dictionary featuring over 20,000 vocabulary words
Over 950 learning hours
Advanced Internet/Intranet Teacher Management System
Comprehensive teacher implementation tools, including Teacher's Guide, Lesson Plans and Workbook
Authoring Tool to create lessons integrating with the EDO interface
Fully customized learning paths
Adaptive streaming video over advanced Internet technology
Tools for easy tracking and reporting of student progress
Community Intranet site with constantly updated content
Learn how Tandberg Educational Inc. can create a custom 21st Century Learning Solution for your unique needs and environment. Contact Tandberg Educational, Inc. today.